This week Brighton Journal spoke to Sarah Arnett, a local artist, illustrator and textile designer. Sarah's vibrant work explores natural forms and architectural motifs, frequently taking inspiration from the Royal Pavilion and fantasy narratives. We discussed Sarah's most exciting projects, and how the local area continues to influence her work.
What are you doing today?
So many things! I'm adding gold leaf to some hand cut paper leaves that are part of a large commissioned piece, and I'm sending some designs off to have some fabric printed. At this time of the year I'm busy finishing things, sending out Christmas orders…but also busy setting up new projects for next year!
Describe where you do most of your creative work.
I do my thinking and ideas seem to form when I'm busy doing repetitive practical things and quite often when I'm swimming up and down the Prince Regent swimming pool in the mornings! I'm a night owl and quite often get on with the practical tasks of running a business in the day…and then really only get down to drawing and really getting into the creative flow in my studio in the afternoon and evenings!
What's the most exciting thing you've worked on?
Last year I worked on a project commission by the Royal British Legion, an 8ft by 40-foot installation spelling out the words THANK YOU. I was inspired by their photographic archive and worked them in to my illustrations, depicting the roles that so many people played in the war effort. I felt very honoured to be asked and I was able in include my great grandfathers story in the illustrations. The installation launched outside Tate Modern and travelled around the UK as part of the Armistice Centenary. The piece was very public and there was a huge amount of interaction, the stories that were recorded as part of peoples personal Thank You were extraordinary, beautiful, heart breaking and sobering.

What made you decide to become an artist?
 I just knew that what I wanted to be, I can't remember thinking about becoming anything else!
What are you currently working on?
I am working on a private commission at the moment which is very exciting and very close to completion and I have just launched my new website so I'm busy marketing my new online shop and writing my to do list and  wish list for next year!
What are the key themes in your work?
Nature in all forms, architectural influences, mixed up and recreated….I love the Royal Pavilion and I love the maximalist mixes of patterns, motifs and a fantasy narrative. I'm also very inspire by process, so I'm always finding new ways of working and new materials to experiment with keeping my practice fresh.
What would you like people to notice about your work?
The integrity of the drawing, the layers of painting, the photography and details…. When I am designing a wallpaper mural for example, I want the client to be able to look at it and see new things in it every time they look at it. I love it when people recognise the references and feel that they connect with the subject matter. The detail.
What attracts you to the medium you work in?
I work in many mediums, all making up a strange kind of craft. I paint, use photography, I use my computer, I then layer with hand cut collaged pieces, I gold leaf, foil I add beading and textiles to my work. I think I have collected skills, lots of skills over the years and just as I combine all the pattern and detail I like to do the same with technique and different mediums.
What equipment could you not do without?
My black rotring pen and my Windsor and newton water colour palette, my laptop and sketch book.
Who or what inspires you?
My son, his ideas and new ways of looking at things always inspire and surprise me, He is just starting out as a creative and it's so exciting to see who he is looking at or what he is reading or watching! I love listening to other artists talk about their practice, I'm always inspired by other people's creative journey! Travel…always inspiring!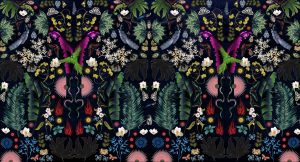 How is your work affected by living in this area?
I have an amazing network of artists, designers, creators around me. I have a Palace in my town, the sea at the end of my road. I grew up in Africa and came to Brighton as a child. I remember seeing and experiencing Brighton for the first time with such wonder that I'm a complete result of this mix of influences.
What's your favourite thing to do locally?
I have the best friends and family in the whole world…they are my favourite local thing to do locally!
What's your favourite gallery (or place to see/experience art)?
 The V&A, it's like home.
If you could collaborate with one artist, from any time, who would it be and why?
Sonia Delaunay, she was an incredible artist and designer who worked in different mediums and areas of art and design. She was a huge inspiration when I was studying and when I was first deciding on which area of art and design I wanted to follow.
What's your favourite colour?
Red.