Brighton Fringe have always been one step ahead so it's no surprise that they have given their programme a digital upgrade. A brand new 3D app for your smartphone will be your guide to the Brighton Fringe this year, and there will be some fun along the way.
Watch as the programme is transformed into an interactive paradise, ride the Brighton Wheel or watch the i360 all while finding out more about the number of events at the Fringe this year. There will also be a number of hidden games for the user to play. The app has been created by RamJam, a digital studio based here in Brighton. Their creative director, Tom Jackson, said "we tried to incorporate as many hidden things as we could – you can take a ride on the Brighton wheel or watch the i360 go up and down the side of the cafetiere, squash the sauces, knock down the RamJam logo, add sugar cubes to the coffee and run your fingers through spilled orange juice. Augmented reality is something we'd wanted to play with for a few years so we really went for it, creating something fun and playful for people to experience. There's more to reveal over the coming weeks so watch this space."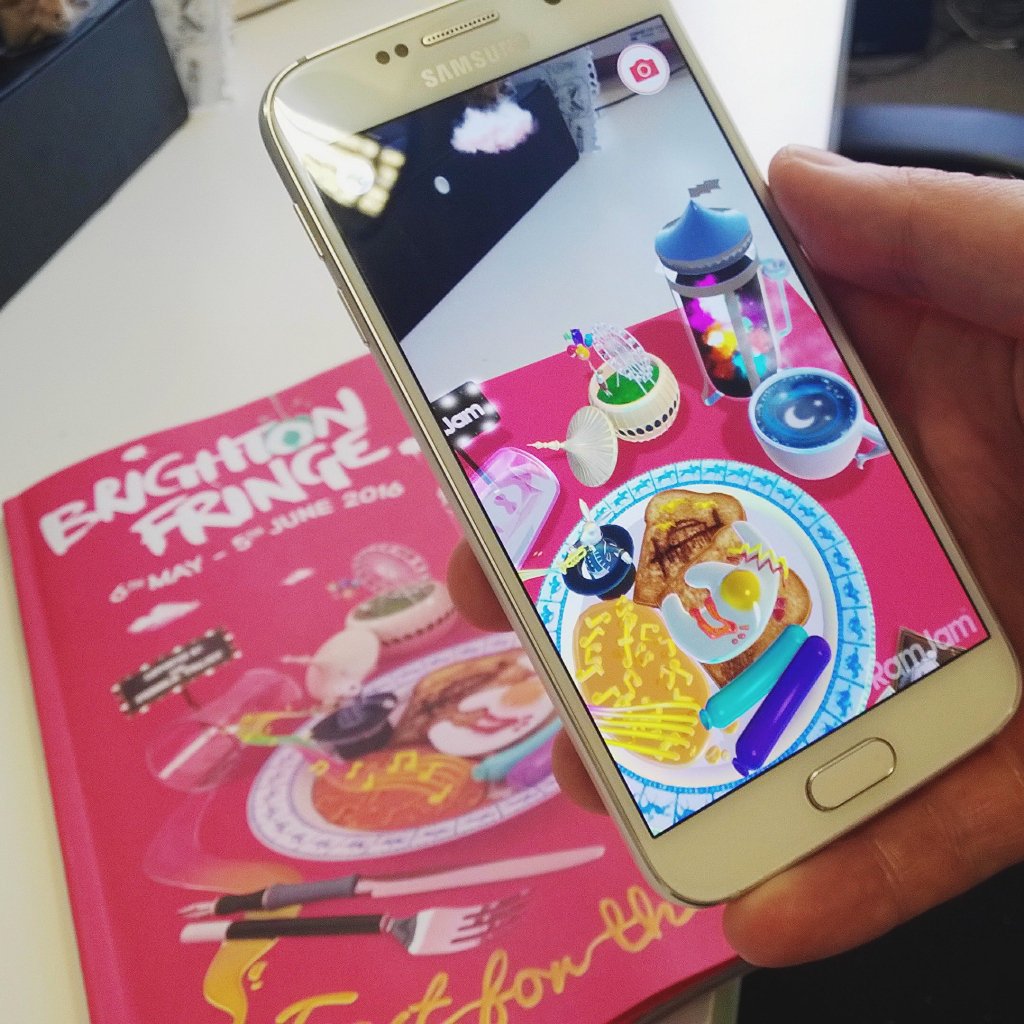 There will be pages in the programme marked with a 'see this in 3D logo' to show that there is a chance for interactive fun. The Brighton Fringe's managing director Julian Caddy said "Creative technology is moving ahead so fast it seems only natural that Brighton Fringe should reflect and champion this. It is now second nature to engage with digital devices, so blending this with the ever-so-analogue Brighton Fringe brochure is fantastically logical. What RamJam has created is just the tip of the iceberg in terms of the potential that augmented reality can bring to the way in which we engagne with, and find out about, what is going on at Brighton Fringe. I hope people enjoy saving kittens, driving cars and popping balloons and we're encouraging everyone to share their discoveries with us on social media."
The Brighton Fringe Festival is one of the biggest arts festivals in the UK, with over 900 acts and events taking place over the month of May here in our wonderful city. You can find out more about the 2016 programme here. The app is available on the app store under the search '3D Fringe' or you can visit RamJam's website.
Holly Martin
holly@brightonjournal.co.uk
feature image: brightonunitarian.org