No Comments
Brighton Street Style
On

24th October 2018

https://www.brightonjournal.co.uk
Another beautiful week in the city of Brighton, another week of street style, you dressed for rain or shine with different layers. With lots of beautiful vintage pieces seen, midi dresses and rust colours were a definite fave!
First up we spoke to Klara, she looked effortlessly cool in her leopard print midi dress and shades. When asked if she had a favourite place to shop she said 'Not really, it depends… at the moment it's Zara but I do like places like Comme des Garcons – when I can afford it [laughs]' Her favourite piece's in her wardrobe are her suede Doc Martins and her Comme des Garcons coat!
Next we spotted the lovely Kerenza, we asked her about her outfit and her jacket and cardigan were both from chariry shops at great prices! Her dress was from Urban Outfitters, although she said 'I don't usually shop in the high street'. She had a lovely variety of rings on and when we asked her about them she said they all have a different story behind them, one being from Indonesia!
Then we caught up with Jess, she said she'd just thrown this outfit on but we think her clashing colours looked great. Her trousers were from a thrift shop in the Laines and she loves 'charity shops and thrifty stuff'. While her favourite things at the moment is anything green, especially her green cord coat!
We had a quick chat with Maggie, after noticing her beautiful and unique hair clip which she told us was her Grandmothers. She also told us her dress was bought from Martlets charity shop only yesterday! She explained 'I prefer mostly second hand stuff, it's better for the environment, it's better not to always buy brand new clothes'. Her favourite piece is however 'from Paloma Wool – which is a really nice brand, it's just like a shirt'.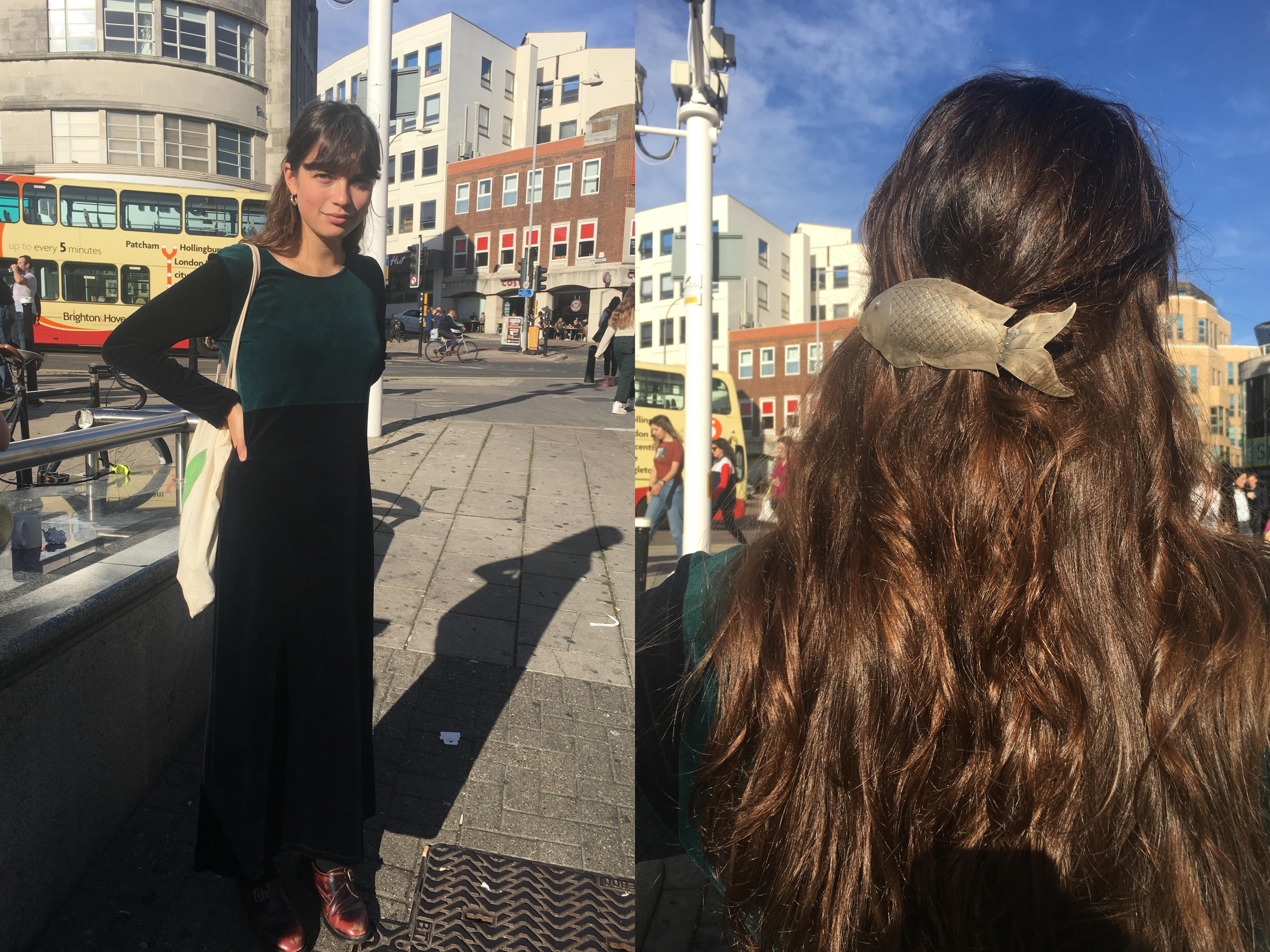 Last but by no mean least we have this weeks best dressed, Kitty. She had a beautiful dress on from Urban Outfitters, the tiny little embroidary flowers she neatly matched with her rust jacket – a vintage item from the Laines and beautifully autumnal! She said it was probably her favourite piece at the moment, along with a new mustard yellow cord skirt and 'a yellow like flowery top – I'm very keen on the yellowy tones at the moment'.