Written by Sila Kiss
The weather is hot enough, people are laying on the beach, sipping from their drinks. Nobody is here except the locals or spiritual travellers. This is Fethiye, which has lots of little valleys stretching towards to the sea. Every bit is an amazing nature.  The most beautiful sea of the country from Ölüdeniz, Turkey's first long-distance hiking trail on the Lycian Way, with its unique geography to the Butterfly Valley. The trip can start with a flight to Dalaman Airport. It is 45 kms from the airport to the city centre. There you can find many camping areas on the way. Here you can start the trip with your friends or family and have a chill out beach day.
After spending the night in, you can start to trip for a nice breakfast to Ölüdeniz, which is still in Fethiye. The meaning of the name is dead sea. The story behind the name is coming from two lovers who died into the raging waves to see each other. Of course, a sailor and a beautiful woman.  This is a small but a historical beach, which is mostly tranquil. Here you can explore the sky by paragliding or dive in to the deep sea by scuba diving.  Surrounded by hills decorated with pine trees, the lagoon gives a narrow passage to the open sea. The protected area is a real natural wonder with its beautiful sandy beach, turquoise coloured warm sea. 
This is me infront of the sea Ölüdeniz. After spending a couple of days here, you should go to a market and get ready for a heavenly vacation to the Butterfly Valley. Take your back pack, get ready and catch a boat to the Butterfly Valley. 
Here you can find camping areas with food service into the nature owned by locals. The most beautiful part of this trip is to not get inside the cities, meet with the locals, learn their culture and see many nature beauties while hiking. This is a mysterious trip; it is about who you will meet on the way and what they will propose to you. You can find workshops, yogis or parties. You just need to go to the beach with your drinks and find the people you are interested in and join them.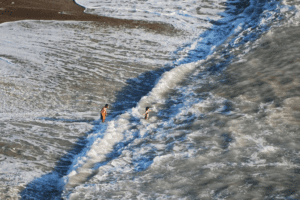 The trip is just started! Turn back to Ölüdeniz take the caravan and go to Kabak. Because we did not have that much days, we went directly Kabak from Ölüdeniz. It is 30 minutes by car. You will go about 15 kms from a road with abundant bends and cliff views. In the end of the road you will see a little shop where you can find food, the place called Kabak Last Stop, here you can leave your car. Kabak is one of the untouched places of Turkey. It has various of magical experiences for every age. There you can see little children running in the valley, living the natural life or you can find magical parties inside the valley. My suggestion is Shambala. This is a very famous camping place; you can rent bungalows with magical views and also, they have even air conditioners and a pool. We went this trip in winter season where in Fethiye there was snow but still it was available to get in the sea without catching cold. The valley is surrounding the sea like a mother hugging its child, so the sea is always hot. Also, there are many other camping places with food. If you want to stay close to the sea you can choose the one you like. Here you can walk a part of the Lycian way, see the waterfall, walk to the cave, meet with the nature and at the nights you can take your drink and find parties. If you want to have a chill vacation you can also get your book and sit in front of a beautiful view where you can rest. When we went there, we met with two guys who are taking care of the Shambala. They saw us while we were getting into the sea. They took our pictures and showed them to us. We spend the night there. It was unbelievably beautiful. In the morning we cooked and ate together and continued our way to kas.
If you feel it is enough of the camping and nature you can start to a way through Kas. Fresh, Turkish style Raki tables! It is a big tradition for Turkish people to arrange a nice Raki Night. You can not listen to every music; this meeting is special. Raki is a traditional Turkish drink, which you mix it with water and magically turn the colour from transparent to white. In Kas you can go to a restaurant for this special night or you can arrange this in your camping place in your own caravan.  The raki needs some appetizers. You can do a barbecue, and have some starters.
I prefer sea beans, tarator for the calamari and Muhammara which is from Middle East.  
I can suggest you to eat fish, in the morning you can go to the fish bazaar and choose the most suitable fish for your taste. Also, you can make calamari or shrimp-based snacks. Because Raki is a heavy alcohol, Turks prefer to have it with yoghurt or Turkish white cheese. Lastly you can finish this night with cold and fresh watermelons and melons. Also, you should not forget ice for the drink. Kas is 97 kms away from the Kabak. 
Kalkan is again one of the natural sites of the south of Turkey. Here you can go to the Kaputas beach, Patara Beach which is inside the historical antique city; if you want to spend your time with less crowd there are many beaches that you can find. Again, this little district is full of historical beauties. Do not forget to swim in the caves and to visit Xanthos and Letoon Ancient Cities.
Next article is about how to go from here to fairy chimneys, from south to Anatolia. Destination: Cappadocia!