One Comment
Gwyneth Paltrow's Skincare Treatment Has Everyone Buzzing
On

5th April 2016

https://www.brightonjournal.co.uk
Always one for trying weird and…weirder things, Gwyneth Paltrow has spoken about a skin treatment that involves her being stung by bees. She told the New York Times "I've been stung by bees. It's a thousands of years old treatment called apitherapy. People use it to get rid of inflammation and scarring. It's actually pretty incredible if you research it. But man, it's painful." We can imagine.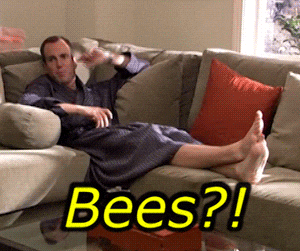 This revelation has been creating quite the buzz and got Bjournal asking; what exactly is apitherapy? Apitherapy is 'part natural medicine, part acupuncture' that uses bee venom as a form of therapy for a range of diseases. Doctors of traditional Chinese medicine have used bee sting therapy for centuries. Gwyneth Paltrow isn't the only one who has used bee venom for skincare, as it was reported that Kate Middleton achieved her flawless complexion through the use of bee venom facials. However, Bruce Katz, the director of the Cosmetic Surgery & Laser Clinic warned against bee venom therapy. He told Refinery29 "You can have an allergic reaction that causes swelling or worse, go into anaphylactic shock." There is also little scientific evidence to prove that it actually has any health benefits.
Of course, there are a number of beauty products that contain beeswax, honey, or royal jelly, but putting bees on your face? We'll pass thanks.
Holly Martin
holly@brightonjournal.co.uk
gif: Fox/Netflix