The Hove constituency covers Brunswick Town, Hove, Hangleton and Portslade, and is currently served by Labour MP Peter Kyle. 
There are seven candidates standing for this seat in the General Election…
Angela Hancock – The Brexit Party
Angela Hancock was called up from Portsmouth as a last-minute replacement for Brexit Party candidate Andy Wood, after Wood announced he would not compete in the election and encouraged supporters to back Conservative candidate Robert Nemeth.
There is no official statement on the party's website from Hancock, but in recent tweets she has lambasted the EU for being "corrupt, sclerotic, anti-democratic, lying, bullying, and dangerously left-wing":
We want our country back. We want Free Speech back and we want our Parliament back!

— Angela Hancock (@BrexitAngie) October 25, 2019
Beatrice Bass – Liberal Democrat
Beatrice Bass has lived in Brighton and Hove for 16 years, after growing up in Davos, Switzerland. She has held various roles within the Liberal Democrats, and is currently chair of campaigns in Brighton and Hove. Before entering politics, Bass was a professional musician, playing bass guitar in 80s indie-rock band The Wedding Present.
In her biography on the Brighton and Hove Liberal Democrats website, Bass is described as "a passionate campaigner to remain in the EU":
Around Brighton & Hove, Beatrice listens to the worries and concerns of how Brexit has already affected residents. The post-referendum reduction in job opportunities, devaluation of the pound and economic uncertainty have already impacted local people. The Liberal Democrats have been consistently campaigning for a People's Vote since 2016. They are the biggest and strongest remain party and will revoke Article 50 if they gain a majority Liberal Democrat government in the next general election. Beatrice will fight to keep us in the EU and enable residents to enjoy the benefits of full EU membership.
As well as campaigning for Remain, her other campaign interests include housing and boosting local business:
The fight for affordable housing in Brighton & Hove is another issue at the heart of Beatrice's local campaign work. Many residents are not aware of rights they enjoy as tenants.

Hove & Portslade are home to many different businesses of all sizes across many sectors, from branches of national chains to sole traders. As a member of the Lib Dems in Business group, Beatrice works to boost collaboration between businesses, the public sector and research. She wants to facilitate apprenticeships, encourage capital investment and improve government support for start-ups and SMEs. Beatrice is a voice for the creative industries and will look to represent the interests of all creative industries in parliament.
Charlotte Sabel – Independent
Independent candidate Charlotte Sabel describes herself as "an active campaigner and activist for causes and vision rather than parties":
After personal bereavements, hardships and life challenges my priorities shifted and I tuned out the political bubble, and tuned in to my community, to reshape my role in the world and to help others.

By volunteering with local charities involved in disabilities, children, the elderly, and addictions, and also as a support worker for vulnerable adults and the elderly, I engaged with Hove in a new way. Here I saw the real consequences of politics, its impact on individuals and the potential it had to improve society.

As a journalist, researcher, copywriter, and business coach, my meticulous eye for detail and unique way of thinking delivers outstanding results. Diverse life experience has taught me that politics is about people, and we need to take a more personal and humanity-based approach for it to work better for all of us.
In her manifesto published on her website, Sabel focuses primarily on constitutional reform, proposing a switch to a Proportional Representation voting system, an elected House of Lords, and increased regional devolution. She sees constitutional reform as the starting for Britain becoming a more "equal" society with improved levels of "well-being and happiness".
Furthermore, Sabel advocates "a morally conscious economy based on principles of service, cooperation and social justice with less emphasis on individual greed", "a fairer tax system" to narrow the gap between rich and poor and he introduction of Universal Basic Income. Regarding the environment, Sabel "supports eco housing projects, green energy policies and animal welfare reforms" and "urges Parliament to legislate in favour of these".
Feel disheartened about voting or tempted to play tactics? Vote with optimism, & a desire to see real change.
Instead of sensationalist party promises, I offer achievable goals, progressive politics & a roadmap for reform.#VoteSabel #VoteIndependent #GeneralElection19

— Charlotte Sabel (@CharleySabel) November 18, 2019
Dame Dixon – Monster Raving Loony Party
In the 2015 election, Pantomime dame Jon, known as Dame Dixon, garnered headlines around the world after turning up to the election results announcement in full frock and make up. Unfortunately, Dame Dixon finished bottom of the polls, gaining just 125 votes.
Among the Dame's personal policies, which he has admitted are "undeliverable nonsense", are "introducing Monopoly money as legal tender for one day a year, but you have to guess which day", and allowing people "to wear a frock to work every Friday".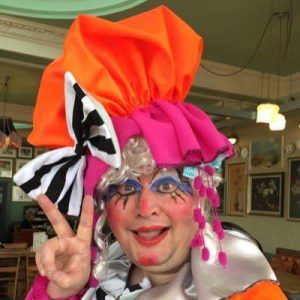 Ollie Sykes – The Green Party
Ollie Sykes has been a member of the Green Party for 15 years and a City Councillor for eight years, with much of that time spent in a senior role. He was born in Germany but has lived most of his life in the UK. In a statement to voters published in the lead up to the European elections earlier this year, Sykes said that his politics "have been formed by an activist upbringing, an academic background in natural environmental sciences to MSc level, and travel."
On being selected as a candidate, Sykes said:
I'm thrilled to have been selected to stand for Parliament for the Green Party in Hove. All over Europe we're witnessing very strong results by Green Party candidates as the abject failure of mainstream political parties to tackle the big issues of our time has become crystal clear. Evidence of environmental decline and the effects of climate change are in the news almost every day. Greens have positive answers to the big questions facing us and our country and I hope our message will resonate with the residents of Hove.

I'm proud of the role that Greens have played in the city; leading on the campaign against single-use plastics, taking urgent action on the homelessness crisis and holding the Labour council to account. As parliamentary candidate for Hove I would look to highlight the difference a second Green MP would make for our city.

Brighton and Hove elected the first Green Council administration in 2011, to the background of Coalition austerity. It was a difficult time but also a time of notable achievements, possibly driven by a sense of urgency as Greens lack the sense of entitlement to power that other parties have. But we have an unequalled passion for change. So in our city we've achieved a lot, even in opposition. As Group Finance Lead I recently led our amendments to Labour's 2019-20 Council budget, putting almost £13m back into services without creating additional cuts.
Peter Kyle – The Labour Party
Current Hove MP Peter Kyle grew up in West Sussex and moved to Brighton and Hove in 1996. He later gained a doctorate in community development from the University of Sussex, and in 2006 became a Cabinet Office special advisor focusing on social exclusion policy. Before that, he worked as an aid worker in Eastern Europe and the Balkans helping young people whose lives had been affected by the political instability created by war.
In the 2015 election, Kyle was elected with a majority of 1,236, increasing that to 18,757 in the 2017 election.
The Labour Party has said that since being elected, Kyle has:
…prioritised job creation, investing in businesses, new housing and ensuring every young person has access to the best education our country can offer. During the Referendum campaign he toured the South East for the Remain Campaign. He did not vote to trigger Article 50 and believes that we should only leave the EU when there is a deal which will not negatively impact jobs, the economy and our living standards. This is why in June 2018 Peter championed The Peoples Vote – a campaign for a public on the final Brexit deal.
His recent tweets have focused on the need for a cross-party consensus to tackle climate change:
My fear on the #ClimateCrisis is that we spend the next decade talking about targets not action.

We should be asking: who will *start* getting gas out of homes quickest?

We can talk about accelerating progress later, let's get our politics focused on NOW not then

— Peter Kyle MP (@peterkyle) November 21, 2019
Robert Nemeth – The Conservative Party
Robert Nemeth currently serves as a city councillor, and is a professional beekeeper. He lives in Hassocks where he tends to his 30 honey hives. He founded both the Friends of Hove Lagoon and Hove Beach Hut Association, and was a co-founder of the Secret Garden Group and the Blooming Boundary Campaign, which brought planters to Boundary Road.
On his plans were he to be elected, Nemeth said:
It means a lot to me that local members have chosen me as their candidate to represent this area which I love so much.As a Member of Parliament, I would be looking to make strong representations on behalf of the good people of Hove and Portslade when it comes to fighting crime, promoting small businesses, helping rough sleepers and improving the natural environment.

As a councillor, I have run campaigns for those that I represent locally on Hove Library, the King Alfred, school catchments, tree planting and beach huts. These achievements are a solid foundation for a Parliamentary campaign and I can't wait to get started.

© Cllr Robert Nemeth via Brighton and Hove City Council.
The deadline for registering to vote in the 12th December election is 26th November. It's quick and easy to register or update your details on the government website. If you're at all confused about what you need to do, check out our handy guide to registering where you'll find lots more information.  
Featured image: © Welcome to Brighton and Hove, Simon Carey via Geograph.