What happens to the plastic straw or bag that gets blown away when you enjoy a drink or have a picnic down at the beach? Well, it either stays there for the next 400 years or it will get picked up by inspiring Brighton-based artist Candy Medusa who will transform it into one of her cool upcycling artworks! We came across her works when dropping into her current exhibition and met her for a little chat about how she is trying to raise people's awareness of plastic pollution in our oceans with her art!
An old drill bit used as the horn of a narwhal, melted plastic straws turned into jellyfish tentacles, and turtles entirely created out of plastic bits. It is simply amazing what Candy manages to do with nothing but a few pieces of beach litter that get collected during the beach cleans she regularly organises and which are usually followed by workshops where the passionate environmentalist shows people how to turn beach litter into art.
Her little studio above Shoreham Art Gallery is full of all sorts of bits and pieces piled up in stacks almost as high as the ceiling. No matter how special the part is she needs to finish off one of her creations, she can be sure to find it there. Under her creative hand, random bits of wire or plastic turn into the most stunning creations. How she gets the inspiration for them is a mystery, even for her.
"I haven't got any particular process or anything. Very often, the idea comes from the thing itself. I can look at an old drill bit for example and think 'This wants to be the horn of a narwhal' and then I just transform it into that. Also, when you work with wire, there usually is only one certain way it wants to bend and when you try to fight it, it just goes nasty. If it bends into sort of a round shape, for example, then I will just go from there", she explains.
She might not have a particular idea or shape in mind when she starts working on one of her various upcycling works, but the intention behind what she does couldn't be any clearer. Her mission: making people aware of the plastic pollution in our oceans, but in a gentle way.
Using the hashtag #OceanOptimism, Candy wants to use her art projects to show people what beach litter can actually be used for and what they can do to reduce their consumption of single-use plastic items, rather than confronting them about how bad the situation actually is.
"If you just show someone a turtle with a straw stuck up its nose, it's just gross. But if you can get people to interact with art, then they can learn about it in a nice way without having to see those horrible things. It's much more positive", she comments on her way of raising awareness through upcycling.
How she got into doing it was rather accidental. When she saw some little plastic bags floating in the ocean while she did scuba diving, she thought that they looked a lot like jellyfish. The idea for her first upcycling work was born.
Pushed into an academic career where she could get a "proper job" by the girls' school she attended, Candy originally passed a master's degree in Marine Biology before deciding to finally get into the one thing she has always been as passionate about as the ocean, which is art.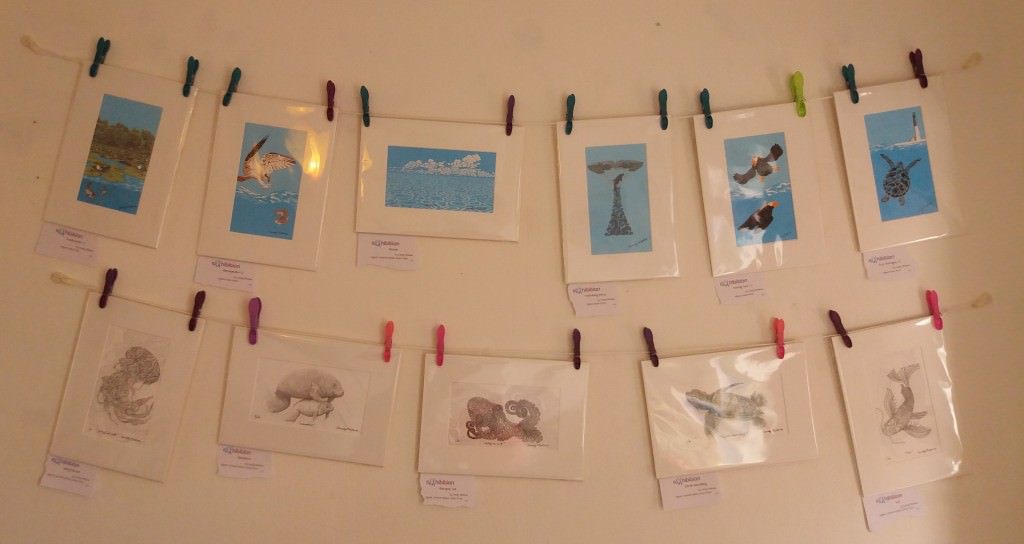 "By doing the environmental art, I get to combine the two things. So, I get to be a marine biologist and do art at the same time", she says. The now full-time artist keeps busy with her commissions, exhibitions and workshops, and of course with being a militant environmentalist and full-time mum. Between 12 am and 4 am in the night is usually the time where she can get creative.
Other than the actual upcycling, the trained marine biologist does a lot of illustration works. Knowing many musicians, she often gets to design album covers. Her biggest achievement so far was probably when she won an international competition to illustrate the album cover for the world famous Deep Purple.
"The cover I designed was just purple, obviously different shades of purple, but still. I just listened to the song and drew what I thought it looked like and obviously they thought the same", she describes her astonishment about having been chosen among thousands of competing artists.
Most of her illustrations are also environment-related, like the ones she did for national parks or campaigns against global warming. The conscious artist is part of the Creative Action Network assembling artists producing artworks with a purpose.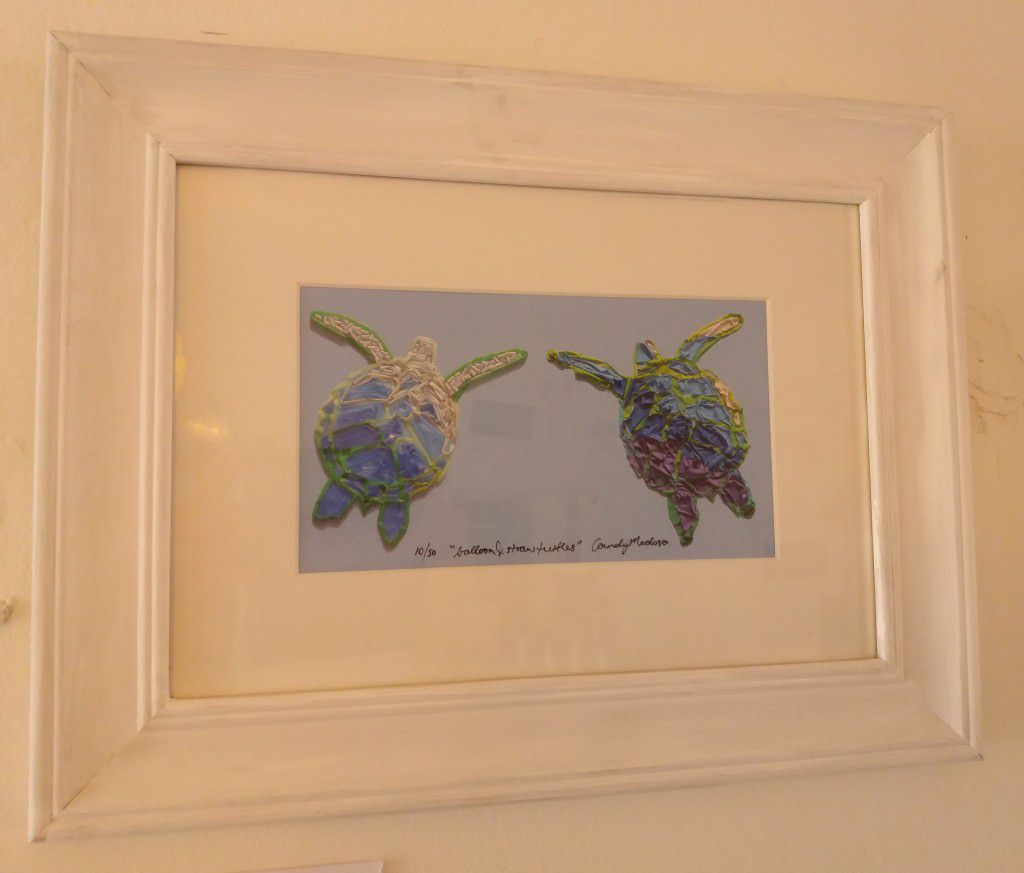 When she is not working in her studio in Shoreham, Candy sets off on board of the Sea Dragon, the boat of the all-women eXXpedition project as their resident artist. Last year, they sailed around the Caribbean to take plastic samples and raise people's awareness on the issue. In September, she will join the expedition's shore team in London to do an installation before taking on another installation project around the hull of the famous Cutty Sark in Greenwich.
"I will work with another artist called Joe Atherton and we will weave plastic beach litter into little fish that we will put underneath the actual hull so that it looks like it was in the ocean", Candy describes her upcoming project.
Her work with eXXpedition has even inspired her to launch her own ongoing art project called eXXhibition. It is as part of this project that she runs the workshops and beach cleans and goes into schools for talks and creative sessions around plastic. Of course, she tries to be a role model herself, always carrying a metal drink bottle, a proper bag, reusable straws and a set of knife and fork with her to prevent all sorts of situations where she might be forced to use plastic items.
Although her commitment to the environment surely is her main concern as an artist, her art can't be reduced to eco-art as such. The artist who likes to experiment with mixed media also likes to raise her voice to fight against patriarchy and to push the issue of women in science.
"I think it is important that women understand what they can do and that they can do everything they want to do. When young girls learn about science in school woman role models are missing. There has always been a very patriarchal way of presenting history and science to them and I think this needs to change", she says.
As Candy knows how hard it is to get a public for feminist art, she jumps on every occasion she gets to put it out there. Sometimes, she even manages to tie it in with her upcycling projects as it is the case for "Uterine Bastille". Mostly created from old wires, it refers to the way microscopic plastic bits enter a woman's body and are then passed on to the fetus.
At the same time, it reflects on the common patriarchal conception of the women as a prisoner of the yet unborn child. It is rare that Candy gets to incorporate all theses aspects into one piece of art. The 3D artwork is currently on display in her exhibition in Kemp Town's Junkyard Dogs cafe which will still run until the 17th of August.
To find out more about Candy Medusa, visit her website or drop into Junkyard Dogs to have a look at some of her eco-art creations.