This week in the pop-up shop in Gloucester Road is Typical Girls, a brand new print magazine, though it isn't your typical magazine. Contributors in this issue include a circus performer who has travelled the world, and is still travelling, and a woman who was diagnosed with Autism later on in her life. This, as well as photography and short stories, makes Typical Girls a really interesting read. Holding workshops this week on making your own fanzine, discussing women only spaces and the launch party, Typical Girls have definitely made the most of their time on Gloucester Road. I spoke to Jamila Prowse about the magazine.
How did you come up with the idea of Typical Girls?
I was working in a pub back in London and at the time was feeling frustrated that I wasn't creating anything. I've always really loved print, especially the idea of owning a physical copy of something that you can cherish forever. Growing up I collected magazines but I never saw any woman that I could identify with in their pages. I think a lot of us have come up against the issue of how the fashion world can perpetuate the notion of an ideal woman; the suggestion that there is one specific way to be a woman. Being mixed race I felt that I could never see any faces that even remotely reflected my own. Typical Girls was born out of those frustrations. The magazine is built on the premise that if you can't find any representation of yourself within culture, you can create your own. We are now part of a much wider conversation happening, where independent publications such as One of My Kind, Gal-dem and Odd One Out are doing a similar thing. It feels great to be able to weigh in amongst the revival in print that is happening from the ground up; putting magazines back in the hands of the people who read them.
You have so man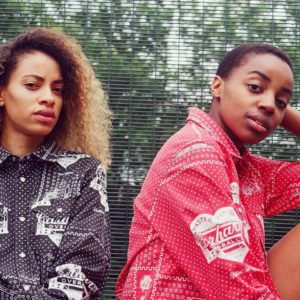 y interesting stories in your magazine, written by some incredible people, how did you decide which stories to include in your first issue?
Initially I did sit around waiting for work to come in and when that remained relatively quiet I began more proactively approaching people. My first instinct was just to contact people I admired, whose work I had come across and really loved. In a way the first issue has ended up being an ode to my personal tastes. Now I have a wonderful editorial team, involving two other women, we are able to work towards extending our scope much more. We are always open to submissions and though each issue is based around a loose theme, we try to accept a huge variety of work.
Which is your favourite story in the issue?
That's a tricky question. Can I say everything? For me, the interviews will always have a soft spot because it was a way for me to pick the brains of the people who inspire me. There is also an article written by Susie Vickery, a Mumbai based artist, who worked on a project called Mapping the Hurt. Susie worked with women in Mumbai to map incidences of domestic violence that had happened to them and people they knew; together they then stitched a quilt based on this map. Having something that is visually beautiful but has a lot to say beyond its aesthetic values is really poignant for me, and Susie's work really embodies that.
What made you apply to have a pop up store in Brighton?
It's a funny story actually. One of the contributors to TG, Chloe Greeves, came up to me earlier this year and said she'd come across a photo that had been taken of me by a local photography. She mentioned tha tit might be included in an exhibition and even a book. After digging around a bit I came across Ben Gore, a photographer who launched his first book Second Adolescence at It Is What It Is. I came down to the show and found myself up on the wall and in a beautifully put together piece of work. Ben then told me about Somewhere To and how to apply to run the shop. Really it was a whole lot of luck that led me here with a hefty nudge from Ben, in many ways he has pointed us in the right direction for our own publication.
And finally, what is
your favourite thing about Brighton?
Just as with the shop, my editorial team and many of our contributors, it is so easy to stumble across really wonderful things in Brighton. Coming from London I always felt incredibly overwhelmed by the size of the capital. Being somewhere smaller and more intimate is not only pleasant but incredibly useful (plus I love being able to walk everywhere).
You can find the pop up shop on the corner of Gloucester Road until Saturday, where it will change hands and become a brand new shop. Find out more about Typical Girls at their website www.typicalgirlsmagazine.com