This week Brighton Journal spoke to Lynda Nurse, founder of local business EcoOctopus. EcoOctopus is a supplier of environmentally conscious jewellery, organic cotton bags and recycled cards, all designed and handcrafted by Lynda. Lynda's materials are either recycled, home-grown, organic, or reclaimed from the sea. We discussed Lynda's preparation towards November's Brighton Art House trail, as well as her newest angel range. Take a look at her unique creations.
What are you doing today?
Today I am drilling pottery pieces which I will then be fusing with my home-grown flowers. They will eventually become necklaces. In addition, Christmas requests have already started to come in. Consequently, I am also making some angels utilising recycled materials that include copper, glass and wood.
Describe where you do most of your creative work.
I am based from home where I have set up a small studio.
What's the most exciting thing you've worked on?
To be honest, every new project creates excitement. My business is still only 8 months old, and I am forever developing my range. Every time I open a flower press, turn electrical wire into earrings, drill through a beautiful piece of glass… I feel excitement.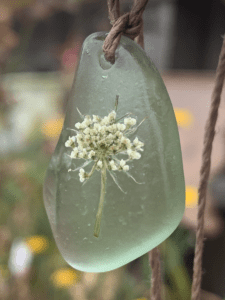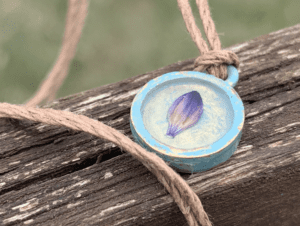 What made you decide to become an artist?
It's my attempt to escape the rat race and keep my heart singing. So far so good!
What are you currently working on?
I am in the process of re-stocking my products after a busy artisan fair. In addition, I am part of the forthcoming Brighton Art house trail (taking place this November) so am photographing my portfolio.
What are the key themes in your work?
I am a keen environmentalist and it's important to me that the majority of my materials are eco-conscious. These include ethically sourced gemstones, recycled copper, recycled glass, sustainable hemp, pressed herbs and flowers (all grown in my garden).
An inter-connectivity with nature is also a strong theme. I enjoy the fact that many of my materials are reclaimed from the sea or come directly from the earth.
What would you like people to notice about your work?
All of the above!
What equipment could you not do without?
I could not do without my drills or wire cutters! Equipment aside though…. my music is essential. It keeps me engaged, active, positive and singing as I work!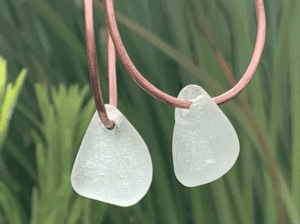 Who or what inspires you?
Catalan architect Antoni Gaudí is my all time favourite! Alternative and quirky structures, incredible use of colour and form. The Sagrada Familia made me cry when I first visited as it was just so beautiful. The internal columns are shaped like tree trunks which give the feel of being inside a forest rather than a church.
How is your work affected by living in this area?
Most of my materials are sourced and sold locally. And although predominantly an online business, I just love meeting people so make a point of attending as many local fairs as possible. I feel very lucky to live in such a supportive environment.
What's your favourite thing to do locally?
I am an avid supporter of both online and high street independents. So in addition to local online shopping, I really enjoy walking through Brighton's north lanes. Most my spare cash is spent here!
What's your favourite colour?
My favourite colour is green in keeping with EcoOctopus.
To see all of Lynda's work, take a look at her Etsy shop. EcoOctopus can also be found on Facebook and Instagram.