The White Rabbit Gallery on Gloucester Road is very Brightonian indeed. With its jumble of apparent artefacts, colourful period-dressed staff and mix of Victoriana (The Empress of India glowers down from a large portrait on the wall) and mix of nineteenth and early twentieth cntury-flavoured art and jewellery, it more than resembles some kind of Old Curiosity Shop, stuffed with treasures of every kind. We went along to talk to proprietors John King (33) and Peter Gosbee (30) and came away amazed. A visit is recommended. Just don't call anything a novelty and whatever you do, don't mention the S word…..
So The White Rabbit Gallery – what is the story? We started the shop a few years ago now and we have been meeting more artists that have been getting involved. It is locally made arts and craftwork. We all collaborated together to make an outlet and a place for people to sell their work. I suppose the overall theme is that everyone makes their own thing. We are manifesting a brand new style, combining vintage with upcycling, with processes like glassblowing and electroforming which are quite unusual in the UK at the moment.
(JK) I don't know how it became called White Rabbit. The name was given to me. I didn't choose it. People started calling me The White Rabbit, when I worked a lot at festivals doing glassblowing demonstrations and things like that. I thought it would be a good business name. There are a lot of different ties to the 'Alice in Wonderland' concept. There are a lot of things in our shop – clocks, mystic things etc which give the Wonderland perspective.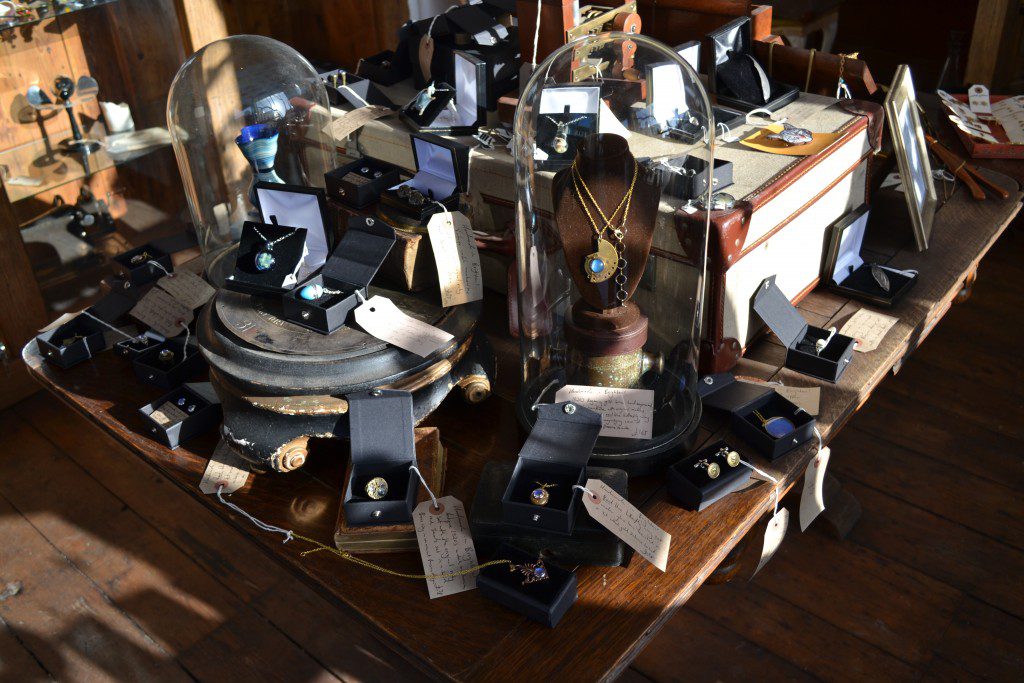 Stylistically you seem to have a particular penchant for Victoriana or Ste….? (PG) Don't even say that word! I can't stand it! I find that Steampunk is a novelty! I don't think that it is a particular style. It is a novelty which is going to die out, hopefully very soon, because a lot of people come up to me at work and go "Oh! It's Steampunk!" Well, no actually! This is my own style. I look like I have come out of the 1930s. Were the 1930s Steampunk? I don't think so! I think that Steampunk is a word to cover anything that is vintage and had a Victorian to 1930s aesthetic. It is like saying something is 'nice'. It is not actually describing it. I don't think it does any justice to anything.
I can't stand it! I find that Steampunk is a novelty…. which is going to die out, hopefully very soon…
Tell us about the 1930s aesthetic. (PG) I think the clothing is well made and put together and that it has a good cut. There is a subtlety to it which I like. I think currently the fashion market is full of throwaway, disposable, planned obsolesence, which is terrible. If you buy a jacket it should last you for the rest of your life, not throw it away after three weeks at a festival because you have got vomit on it! You should wash it, clean it, love it and respect it.
Talking of the 1930s aesthetic and Victoriana there is a lot of that going on in the gallery. Well it is anything old that looks good. I don't think we are specifically trying to turn this into a 1930s shop. It is just nice things that fit in to the space. There are maybe ten artists in here which all add a little attribute to the shop, which makes it look its own unique way. We all seem to like old things. When someone brings something to the shop we all critique it and say "Oh that will look nice." or "Get it out!"
Tell us a little about your personal backgrounds. (JK) I lived in America for over half my life and I learned the trade of glass blowing out there, from some hippies with dreadlocks in their workshop. There is kind of an underground culture of glassblowing in America, which has expanded over the last twenty years.  It is a big coveted secret between glassblowers. Noone wanted to share what they did. There was a glassblower who found that you could fume the glass with silver and change the colour of it. He said that he was wondering whether to keep it a secret or share it. He chose to share it and said it is one of the best things he has ever done. This has become a multi-billion dollar industry in the United States now and it is more about caring and sharing than a coveted secret, which is quite nice.
However when I returned to the UK I found that there were not many glassblowers, so I thought it would be a good idea to open a shop to showcase my work. Soon after I opened the shop I met Peter. We've gone into business together with the electroforming, which is an extremely rare thing around here. I am entirely self-taught with what I do.
(PG) I was born in Hertfordshire. I learned to buy antiques with my grandmother when I was six years old and I have been interested in antiques ever since. I started making jewellery when I was thirteen. I am constantly buying and selling and that is my lifstyle. I like to buy and sell, make and create.
We work together because we share similar interests. We are both creators. We started when we were young and it seemed to suit us to work together.
Why do you think Brighton is particularly conducive to your kind of art? One of the strongest things about Brighton is that nobody is afraid to be an individual. You can ride down the street naked in a giant hamster ball and people would be like "Ah its George. Alright George!" People wouldn't bat an eyelid. Self expression here is valued as opposed to the rest of the UK where it is shoved under the carpet. We are offering people the opportunity to buy one off, individual bespoke pieces of work that is going to appeal to that mentality if they are living in Brighton.
Novelty has the idea of disposability…. to describe someone's work as 'a novelty' is disrespectful in so many ways…
If not, you have the tourists who want that little bit of Brighton flair and want to buy something that is hand made and hand generated in Brighton. These are not 'novelties' though. It is art. Unique. Novelty has the idea of disposability. A novelty is the toy moustache you get in your Christmas cracker. It is there for a joke and has a short shelf life. To describe someone's work as 'a novelty' is disrespectful in so many ways. We would describe our work as esoteric. If you are taking something fragile like a butterfly wing and turning fragility into something rigid and sturdy and have a lifetime of wear to it, it is alchemy. It is transformation. It is working with a process that a lot of people can't get their heads round. It is magic! That is why it has the esoteric side to it. It is something hidden and beyond current understanding.
Explain electroforming. Electroforming is coating any object, organic or inorganic, with layers of metal and slowly building that up to a point where it is rigid enough to be worn as jewellery or thrown against the wall, which is a test that we use.  Therefore it has been hermetically sealed within metal, kept alive forever. When you coat these things in metal you can keep every detail, like the damselfly for example. You can see every vein and it can be worn as a broach. With bumblebees you can see all the hairs. That animal is now preserved forever. A lot of the animals come from the UK, and have died in our windows. My (PG's) mum sends me a box of wasps every so often. We have a few beekeepers as well who bring us bees that are not alive anymore (pre-dead). We have an electroforming workshop onsite.
Insects as a medium are tricky bastards….…
Insects as a medium are tricky bastards. Some parts of the wing are really rigid. Some parts are really soft and fragile. Some you can cut cleanly. Some will tear. You can't have any wind or breathing when you are working with them because they are so fragile. You can't touch them. Nightmare! One tiny touch in the wrong direction and it cracks and you have to reset the whole thing. The damselfly for instance had to taken apart and a pin put through the whole structure. We are talking two hours prep and then drying times…. you are talking about ten hours work altogether. As a broach in silver we would sell this for about £85-95.
Valentine's Day is coming up. What would you recommend  from the White Rabbit Gallery for the discernining Brightonian? (PG) For the ladies I set bright blue butterfly wings under glass, which was quite popular in the 1920s. You would go to South America and pick up a pin with a similar design. My grandmother had all these blue broaches which amazed me as a kid. The blue was natural and overwhelming. I have developed my own process over a couple of years to set the wings under glass and I am the only person in the country doing it to this standard. I have butterly wing rings which are based on an ancient Persian design that I found in the British Museum in solid silver. They are £26 a go.
If a ring is a little strong for Valentine's Day I also have butterfly earrings, pendants, pins and cufflinks…. 
If a ring is a little strong for Valentine's Day I also have butterfly earrings, pendants, pins and cufflinks. The earrings are priced at £32 boxed, so keeping things reasonably priced. For the gentleman we have cufflinks. Cufflinks are one of our strongest selling items. You are not allowed to use the 'S' word when you are describing them (although they do look a bit like something a Steampunk might wear)! They are made using 1960s watch movements with the original rubies in them. The rubies are genuine gems which were used to reduce friction. I have them all boxed up with leather backs.
What about on the glassblowing side? (JK) I intend this week to be making sets of drinking glasses, champagne flutes and smaller glasses that go quite nicely for Valentine's Day. I do them in pairs, his and hers and they range from about £40 up to £100 depending on what kind of work goes into them. I use a special kind of glass, borosilicate glass (Pyrex). I fume a lot of the glass with silver, taking solid silver and heating it in with a blowtorch so that it turns into a vapour and then it sticks to the glass, giving it a nice blue or yellow hue. The set in the photo also has dichroic which gives a nice sheeny sparkle when it hits the sunlight. There is a lot of historical technique. For instance I make a jellyfish pendant and the technique used for it comes from about 500BC.
Do you have any message for the people of Brighton? (JK) Come down and visit! We do offer courses in glassblowing and electroforming. Our workshop downstairs is under construction but we are interested in people enquiring about it and setting up a future course. My glassblowing workshop is about 40 minutes out of town but I am interested in taking on apprenticeships. This is for anyone who is interested. We will start from a very basic level and go to very advanced. We are also interested in helping students out as well for their end of year projects and things like that.
graham@brightonjournal.co.uk
Photos by kamilah@brightonjournal.co.uk