Fragile Creatures describe themselves as a "rock band from Brighton on a mission to restore Britain's reputation for original guitar music".
Now, although that statement is a self-confessed exaggeration there is an element of truth to it. Fragile Creatures are, for one thing, original. Their mix of intricate  melodies alongside witty and intelligent lyrics set them apart from the landfill of guitar music we have seen in the past.
Having just released their debut album And Other Wild Things Fragile Creatures are now looking to the future. Their tracks seem to be an interesting mix of strong, layered guitars and lyrics that will genuinely be stuck in your head – it's no surprise the single Stowaways is performing so well streaming-wise.
Fragile Creatures are preparing to play a few shows with Everywhere over the next few weeks, including kicking off the run with a show in Brighton's Bleach. With the hometown show fast approaching, I had a quick chat with the frontman of Fragile Creatures Adam about the state of British Guitar music, the upcoming shows and Jarvis Cocker.
Hey, how are you guys doing today? Pretty good, although sad to see Wales knocked out of the Euros just now!
That was a shame, but it was always going to happen! So you're playing in Brighton on Friday, how are you feeling about it? Very much looking forward to it, we've not played a show since May 20th, when we played two Alternative Escape shows in one day! It's close to our guitarist Tom's birthday, so we will be in celebratory mood!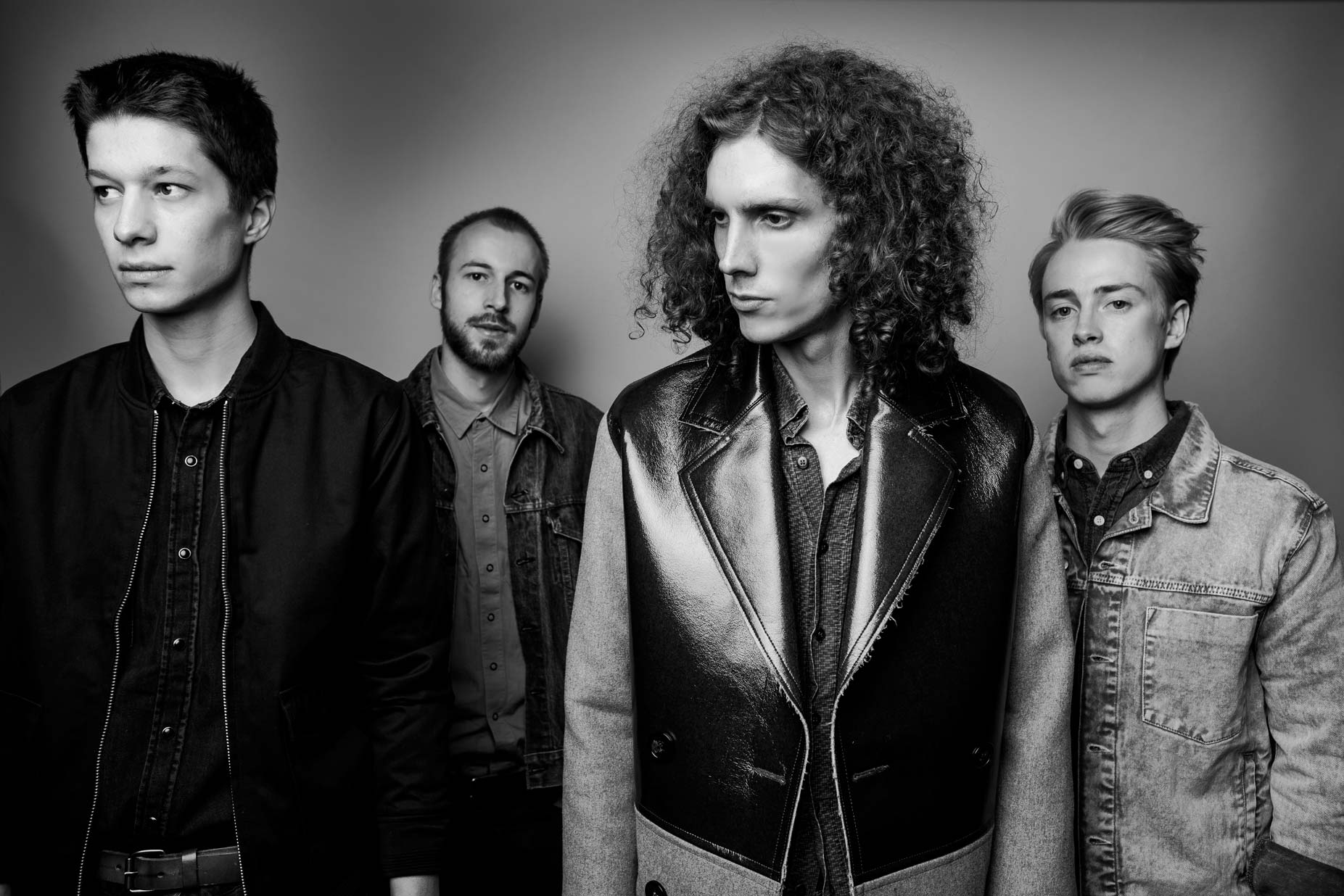 I spoke to Max from Everywhere a few weeks ago and he said they were planning on playing new music, What can people expect from your set on Friday? We're actually playing three more dates with Everywhere later in the month, in Sheffield, Leeds and then London, so we're really looking forward to catching them live for the first time. Our set will be a bit different for this show, as we're playing to the home crowd we're itching to try out some new material ourselves. We've been hard at work on the second album and, depending how well things go in rehearsal tomorrow, we could be playing three or four new tracks of our own.
You guys are obviously from Brighton, what makes it a special place for music? I guess Brighton just has a really eclectic and creative atmosphere… many of my friends are musicians, artists, creatives in some field or other, it's a bit of a party town on the surface but scratch the surface and you'll see lots of people are working tirelessly to realise their dreams – it's inspiring to be around.
It's a vibrant and weird city, does Brighton as a place ever manage to influence your music? I guess it inevitably does – I've been here most of my life, but I wouldn't say I've ever written a song specifically about Brighton. I alluded to the party scene in the last question and I think there are quite a few songs on our début album concerned with ending up on the wrong side of that – drowning sorrows or just drowning! Brighton was an easy place to mis-spend your youth!
You describe yourselves as being on a "mission to restore British guitar music" – where do you think guitar music went wrong? Ha-ha – I think that's probably a bit of a rash, hyperbolic statement in retrospect! I don't think guitar music went wrong per se, it's just that there seemed to be less and less of it in the mainstream. There had become a real emphasis on electronics and, also, I think a tendency towards style over content in song-writing. Genre, synthetics, atmospherics, and so on becoming more important than penning a good memorable tune. I think it was a good mission statement for the first album as we were trying to get back to basics: guitars, bass, drums, keyboards, songs… but also trying not to be boring, or restricted within that remit.
I do agree that bands aren't as prominent now as maybe ten years ago, it seems to be more solo acts such as, I dunno, James Bay, Hozier or someone like George Ezra. What's your plan to change that? I don't know if I'm so obsessed with trying to capture the mainstream flag any more, I don't think anyone who is overly obsessed with that sort of success can maintain it – if they even get it. Look at a band like Radiohead: Thom Yorke was genuinely expecting that no one would get their latest album and it went astronomical, once again! I just want to make the sort of music that I will enjoy playing, would love to listen to and hopefully can communicate some honest thoughts about the world that might speak to people.

Your debut album, And Other Wild Things was released in March, how did that feel? It was amazing to get that album out there. It has been a labour of love and it had seen its fair share of trials and tribulations. It was a difficult birth. I'm really glad it exists now, in the real world for people to discover and enjoy – I am very proud of it, but like many people who play this game I am already restless for the next chapter!
What's next? We have a new single coming out on August 19th, taken from the album. 'Ready To Go' has been a live favourite for some time and it opens the album. We're currently working on a video full of Rocky-style montages – it's going to be fun! …And Other Wild Things came out in March on vinyl and digital, but the label – Brightonsfinest-  are talking about making it available on CD later in the year, with some extra songs from our now discontinued debut EP. We are planning some more UK dates around the country in the Autumn and then I have my sights set on Europe… we've got to get out there before the madness of leaving the EU starts to get implemented! Then there's album number two of course! We've been writing it for a while but recently I've written a couple of key tracks that feel like game changers. I think the whole picture of the album is starting to shape up – it will be a bit darker, a bit harder I think! Who knows though, I think we've got a pool of about thirty songs to chose from! Hopefully we will be demoing soon and then looking for a producer to work with early next year.
Busy then! Who else are you listening too right now, are there any other Brighton bands to listen out for? I've been listening to Andy Shauf Canadian song-writer almost non-stop since seeing him in Primavera Festival in Barcelona, he's a phenomenal writer and his album The Bearer Of Bad Newsis really moving. Radiohead's A Moon Shaped Pool is a new favourite too, as well as Laura Mvula's The Dreaming Room which is slightly outside what I normally get in to but her compositions are really clever!
As for local bands I play guitar for another Brighton group called The Fiction Aisle and I've been listening a lot to our second album Fuchsia Days, which just came out. Thomas White, the song-writer, recorded this one mostly on his own, so I've been listening to learn it, but also have found it's a really fantastic body of work, I think it's almost sold out, but it's on Spotify. Other local bands worth checking out? The Magic Gang, The Island Club, Fierce Friend, Moulettes… there's lots of good music around at the moment, and a good slice of it is local!
Lastly, for people who might not have heard of you yet, can you describe your music in one sentence? I think there's a strong Jarvis Cocker influence personally! Ha! Some people think I look like Jarvis actually – but I only ever bought one Pulp album! Erm… one sentence? I hate these things how about…
Stupid songs for serious people.
You can listen to Fragile Creatures on the normal streaming services – or go see them at Bleach with Everywhere on the 8th.