2015 was the year of alternatives. Alternatives to rice (cauliflower rice), spaghetti (courgette spaghetti obviously) there's an alternative for pretty much every gluten based product. However, have you heard of cloud bread?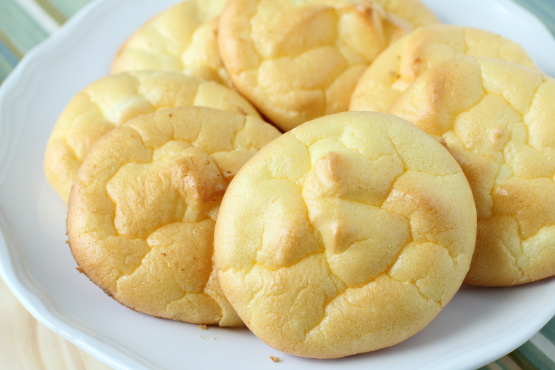 Cloud bread is a grain free, low-carb and high protein bread-alternative that is made from eggs, cream cheese, cream of tartar and sweetener. It sounds a big gross, but we've been assured it tastes delicious. It looks more like flattened cheese scones than your average Kingsmill loaf, but it was given its name due to its fluffy texture. Also, the way you make the bread also means they look like clouds, which is quite cute. What it comes down to, however, is how good it is for you.
It contains half the calories of regular bread, and there's only 1g of carbohydrate per one cloud making it virtually carb-free. It's free from gluten and is completely paleo friendly. Dietian Deborah Malkoff-Cohen told Women's Health that it's also packed full of nutrients. "Cloud bread contains numerous nutrients not found in traditional bread, including vitamin A, vitamin D, phosphorus, choline, and selenium". However, Malkoff-Cohen does warn us that if we are to adopt this cloud bread way of life, we need to think about where we are getting our fibre intake from as cloud bread is also fibre free. Of course, you should be fine as long as you eat enough fruit and veg. Cloud bread only has four ingredients and can also be frozen to be eaten at a later date. Bjournal have provided a recipe for you to try out at home.
Ingredients for ten clouds 
3 eggs, separated
3 Tablespoons cream cheese (softened)
¼ teaspoon cream of tartar
1 Tablespoon honey (optional) or,
2-3 drops liquid stevia
Method
Preheat the oven to 300 degrees. Spray two cookie sheets well with non-stick cooking spray.
Separate the eggs very carefully, making sure no yolk gets in the whites.
In a small bowl, mix together the egg yolks, the 3 tablespoons of cream cheese and honey until smooth.
In the other bowl add ¼ teaspoon of cream of tartar to the egg whites and beat the whites on high speed until they are fluffy and form stiff peaks.
Very carefully fold the egg yolk mixture into the egg whites until thoroughly mixed, being careful not to break down the fluffiness of the egg whites too much.
With a large spoon, scoop the mixture into 10 even rounds on the sheets (roughly ¾ inch thick and 4 to 5 inches across).
Bake on the middle rack for approximately 30 minutes. Cooking times may vary, so be sure to watch closely and pull them when the tops are golden brown.
Remove from the pans and cool on a rack or cutting board.
When they are fresh out of the oven, they are crumbly and similar to cooked meringue. Once they completely cool, (after being stored overnight in a plastic baggie or Tupperware container) they will change their consistency, to a softer bread texture that is nice and chewy. If you aren't after the bread consistency, then eat them as they are, nice and crisp.
Holly Martin
holly@brightonjournal.co.uk
recipe from momables.com