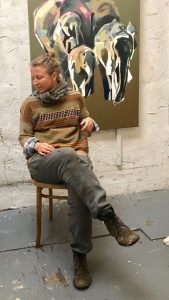 Emily Kirby's paintings focus mainly on the study of people and wildlife. Her exploration of colour and texture is very much part of her creative magic. Beautiful and bold with a collage feel, her work draws from her Zambian roots and regular travel to Africa.
Emily has exhibited internationally in cities including London, Dubai, Prague, New York and has been previously awarded The Chairman's Ngoma Award for Visual Artists in the Dispora by the Zambian Arts Council.
At what point did you immerse yourself deeper into art, knowing that you could make a career as an artist?
Towards the end of a year's trip around Europe and Africa in 2009, my partner and I rented a flat in Stone Town in Zanzibar for two months. I decided I'd use this time to paint a collection inspired by our travels, to take back to the UK. People really liked the work and I sold most of them through word of mouth and an exhibition with a friend in Prague. We moved to London and I decided I wanted to use the money to rent a studio and have a go at painting full time.
Where did you train as a painter or are you self taught?
I did A-Level Art at Steyning Grammar Sixth Form and a Foundation Course in Art & Design at Brighton City College. I guess I'm self taught since then.
What is it about Brighton that made you want to live here?

I grew up near Brighton and lived here in my early twenties. It was an incredible place to be at that time in my life. I have since lived in London and Madrid, more recently in a rural part of Cadiz in the south of Spain. Last year my partner and I decided to move back. While I've loved everywhere I've lived, Brighton has always felt full of great memories and really good people. There's an energy here that's hard to beat.
Your art is enveloped by nature and humans. What do you seek to capture in your paintings?
I've always been inspired by the living world and our place in it. I was born in Zambia and often return to visit family, travel and exhibit with a gallery that represents me in Lusaka. My Dad was also an artist and at one point in his life was a game guide. We would spend a lot of time camping in Zambia's wildlife rich National Parks. This time has been hugely influential and informative for me. My hope is, the more we celebrate wildlife and its beauty, the stronger our resolve to protect it becomes.
What inspiring person would you most like to spend time with to chew the fat on the art world?

David Hockney. I love his passion for looking at the world and exploring materials for producing his art. He seems like someone who's definitely taken life by the horns and lived with his art very much intertwined in his experience.
Have you got any shows coming up? 
Yes, this month I'm showing at 'The Other Art Fair' in London (19 – 22 March), after which I'm exhibiting in a group show 'Three Landscapes' with two really exciting artists – Magdalena Głuszak – Holeksa and Mark Jeffreys, both recent MA painting graduates at Wimbledon (26 – 31 March). My biggest exhibition this year is a solo show of ten large wildlife paintings at 10 Gresham Street in London (May – September 2020).
How do you feel about the term 'female artist'? Is your gender relevant when viewing your body of work?

I think the female gaze is an interesting concept. I often paint female nudes and being a woman myself, this could be considered to give a certain energy to the work. As it's therefore potentially relevant to my voice as an artist, I'm happy to be recognised as a female artist. However if this isn't reflective of an artist's work, I don't think it's important to label the sex of the artist.
What is a typical day for Emily Kirby?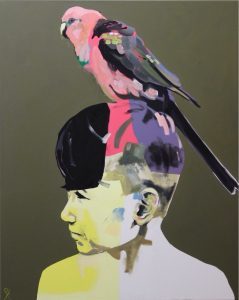 I like to exercise most morning's, it's usually yoga or a run. It definitely helps me to get into the right headspace for the day. I then try to follow the working week of others. I get to the studio mid morning and get stuck in to 5- 7pm. I like to have the weekends off if I can but I often have to be flexible. I'm currently working most weekends in preparation for upcoming shows.
If you weren't an artist, what do you imagine you would be doing with your life?
I'd love to have worked outdoors in nature.
What's your desert island book? 
Pigs in Heaven by Barbara Kingsolver, it was the first of her books that I read and it blew me away. 
Have you any advice for all the young, gifted and struggling artists out there?
Have a strong DIY attitude at the beginning. Being proactive is so important and creating a community of other artists to put shows on with really helps you to look at your practice from a more rounded perspective,