This week Brighton Journal had the pleasure of speaking to Tim Holtam, the co-founder and director of the wonderful Brighton Table Tennis Club –  the national table tennis club of the year in 2015 and the UK's first table tennis club of sanctuary, that's giving a masterclass in integration!
Brighton Table Tennis Club (BTTC) was founded in February 2007 by two former top-10 England Juniors, Tim Holtam & Harry McCarney, both with the strong belief that table tennis can be used as a powerful tool in engaging people of all ages and transforming lives. The club started out with two tables at the Brighton Youth Centre.
Today the club has its own centre with 10 new tables at the Fitzherbert centre in Kemptown, which has been the clubs home since 2015, and see's more than 1,500 people of all ages and from all backgrounds participate in the club's weekly sessions, both at the centre and across the city.
BTTC is a place of sanctuary for everyone, a centre for sporting excellence and a registered charity, that has brought more than £300,000 into the city to support youth and community work and create local jobs in times of austerity.
Brighton Journal this week spoke to the clubs co-founder Tim Holtam and heard the story of how BTTC has grown massively in just over 10 years!
So to start with, could you tell us a little bit about yourself?
My names Tim Holtam and I am the co-founder and director of Brighton Table Tennis Club. I was born in Lincoln and I grew up in London, but I have now lived in Brighton for 13 years.
How did you first get into table tennis?
When I was 8 years old, there was a little youth club really close to my house on the Isle of Dogs, and there was an amazing guy who ran that called Laurie Laken, who got all the local kids playing table tennis. So I played there for a few years.
What are your memories of playing of table tennis growing up?
I played a bit at that youth club when I was between the ages of 8 and 11 and it was a really good place to start. Then we moved house to central London and I found this amazing table tennis club in Willesden called 'London Progress Table Tennis Club'. It was just before the internet, so there isn't loads of information about this table tennis club online, but they were the national champions 10 years in a row. Because of Jon Kaufman, the man who ran this club, loads people are now working full time in table tennis. He is a complete hero of mine and an inspiration to me, and yeah, the club was the best thing that ever happened to me!
So you mentioned that you first started playing table tennis at the age of 8, have you continued to play ever since then?
No I stopped for a while when I was 16. I was doing my A Level's and I had a girlfriend. Basically I was ranked about top 10 in England, and there were all these younger kids coming up. I realised that I needed to be playing a lot more and training a lot more than I had time to, to keep up. So I said, 'right I'm going to stop'. It's a bit of a shame really but I stopped.
I think you know, everything happens for a reason especially when it comes to the meeting of when I met Harry McCarney (Co-founder of Brighton Table Tennis Club) and Wen Wei Xu (Founder Coach) in Brighton in 2006.
So what made you first come to Brighton?
I had just done a year at Manchester University and it rained every day, so I moved to Sussex University because Brighton is sunnier! So I came down to Brighton, but there was no table tennis at Sussex University, no structured table tennis. There was a little bit at Brighton University for adults and anyone really, and that's where I met Harry McCarney and Wen Wei Xu in 2006.
Harry was five years older than me, he was 27 and was working. I think that when someone's five years older than someone else, it's quite a key age gap. I see it all the time in here. I see 18 year olds in here and their relationships with the 13 year olds, or 15 year olds and 10 year olds. You listen to someone who's older than you a lot, and so he's (McCarney) been key to the whole thing.
What's Harry McCarney's involvement in the club now?
He's the Chair of Trustees, he plays and is still involved and helps towards all the big decisions. He knows everything that's going on and without him the club would never have happened. So I can do certain things, i've been a teacher and things, but he can do things behind the scenes that I just wouldn't be able to do. Like negotiate the lease for this place (Fitzherbert centre), something that was really complicated and involved lot's of different people to try and get the agreement sorted out – he's just a really clever bloke basically!
So what happened after you met Harry McCarney and Wen Wei Xu?
We went to Brighton Youth Centre (BYC) and said 'we want to start a table tennis club', and then they said, 'yeah you can have the room upstairs for a year for free'. So in 2007 we started BTTC with just two old tables, with the first session held on February 27th. We just got all the local kids in from Pankhurst Avenue and surrounding area's to come in and play. Some of them still come to the club now and are still involved.
So you were coaching local young people from the surrounding area of the BYC, what followed for the club?
So Nick Kreel (a teacher at Patcham High School), was running an after school club at Patcham High School one day a week, and he noticed that some of the students there were improving. He said to them, 'where have you learn't how to play', and they said, 'oh we go to the BYC'. He (Mr Kreel) having seen them improve, came to the youth centre and said to me, 'I've got to bring this into school'. So I went and did some table tennis there and then I got a job as a behaviour assistant at Patcham High School in September 2008, on the back of doing a bit of table tennis.
I've got such good memories of Patcham. Initially I was working with other behavioural assistants and then I went on to teach Life Skills and History. Every year I was teaching, Ms Sargent (Former Patcham High School Headteacher) and Nancy Meaker (Patcham High School teacher) supported me in doing more table tennis at Patcham.
We moved here (Fitzherbert centre) 3 years ago in July 2015, and the acceleration of the growth of the club since we got his place has been incredible! It has been my full time job for three years now and there is the equivalent of 7 full time members of staff working at the club, which now see's over 1,500 people from all backgrounds and all ages play in the club's weekly sessions.
What have been the most memorable moments for the club so far?
There have been so many! A BTTC timeline would definitely be a great addition to the website! Some memorable moments include: BTTC setting up Ping Brighton & Hove with the council in summer 2012, the first session for adults with learning disabilities at BTTC in December 2013, the first 50 plus sessions at the club in September 2015, and who could forget the visit of Jeremy Corbyn to BTTC in September 2017!
Yes! The Labour leader Jeremy Corbyn visited the club in September 2017, what was that like?
So the Labour party conference was being held at the Brighton Centre and a week before they were in Brighton, someone phoned me completely out of the blue and said, 'I'm calling from the labour party, we're in Brighton next week and we'd like to visit your table tennis club – we'd like to make it a Jeremy visit'. I thought it was a joke at first! We weren't aloud to tell anyone, so kept it quite low key. I got here at 9'oclock in the morning on the Saturday and I thought there were going to be people all outside the building, I thought the place was going to be mobbed! But it was really quiet. I opened up and there were only about 30 of us here when he came, and he came into the back. Looking back now I wish I had given him a little bit of coaching out the back, out of the sight of the camera's! When he came in here it was great, he met a few people and when he started playing, he was a bit rusty – but he could play!
That picture of him in front of the solidarity mural was in all of the national papers and about the club he said, 'this is a place of hope and this is a place of opportunity'.
So what Corbyn said and what is absolutely bang on, is that the people in here, they identify as table tennis players. So they come in and they are a table tennis player, or a coach, before or just full stop. As a opposed to, you've got a disability, or you're a refugee, or you're a traveller. Everyone is just a table tennis player.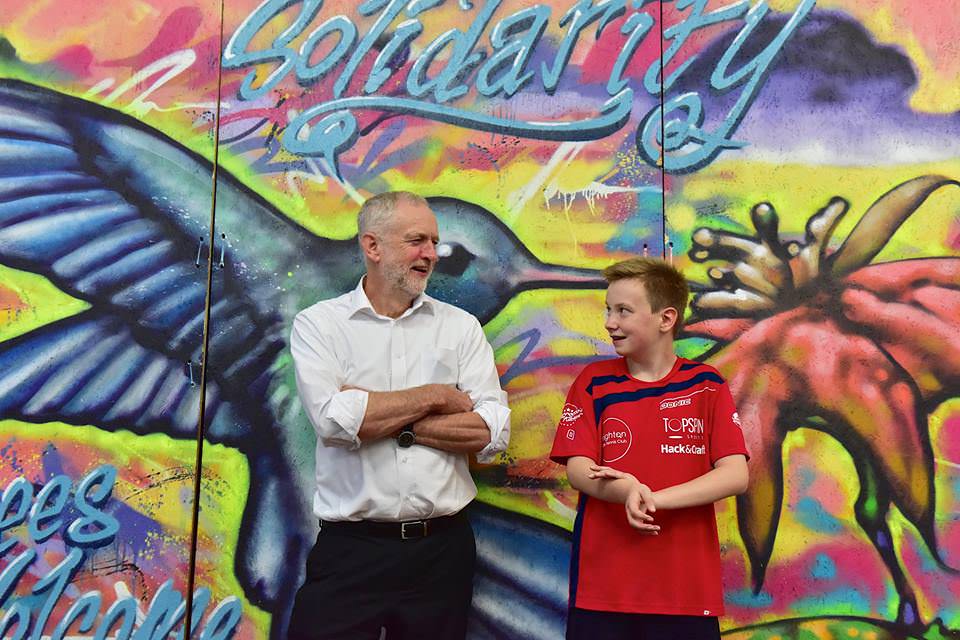 In May 2016, BTTC became the UK's first Club of Sanctuary, that's amazing!
Yes we were the first club of sanctuary for working with refugees and asylum seekers, but there's loads of people here with disabilities and from all walks of life. So actually it's a club of sanctuary for everyone, a place to come and hopefully leave feeling more positive. What it's being looked at now is a model for community integration and social cohesion nationally.
You have got people who wouldn't otherwise have an opportunity to meet each other and because they're here and they are playing table tennis together and are socialising together, really strong friendships are being formed across artificial barriers of race,class, age and everything else.
It's great, sometimes you've got top table out there and you've got someone who's in their 80s, someone who's 10, you've got the national Down's syndrome champion, or you've got someone from Sudan or Syria, and it's just people playing table tennis. It's not about their label, we're constantly trying to drop the label. Sometime's when we're putting pictures of players and information up on our channels, it's like, this is just a coach, or a this is just a table tennis player.
Could you tell us more about the weekly sessions at the club?
There's four allcomers sessions a week where anyone over 16 is welcome. What's great is there's sessions for all different groups, but if you come to the session for adults with learning difficulties for example, when you pick it up and you feel confident you can play, you can then play in the allcomers session. You can then go on to do your coaching qualification and start coaching the kids after school.
Likewise, Harry, Chris and Andrew, the three coaches with Down's syndrome, are here all the time and make such a positive contribution here.
The key point about what has happened, is that the vision of the club and the idea of what the club is about, is that the club has been shared with so many people that can help. BTTC has got an unbelievable team of staff and volunteers.
So you mentioned your unbelievable team of staff, volunteers and Trustees, as well as there being opportunities to coach, do you find that a lot of people want to help out and want to help build the club?
Yes, all the time! A new player came here recently and he said 'do you know anything about wordpress?' He said, 'Because that's what I do for work'. He told us he works for a web designer company called BDI Works, so he built this amazing website for us for free, and he's updating it for us for free in exchange for free sessions. So to us it costs us £10 a week, because that's what he'd be paying to have unlimited sessions here for a week, and this has got to be the best website of any table tennis club! It's got everything, it's got all the tabs, all the pictures, it's so good!
So that's just one example of how the vision of the club is being shared.
It's about giving people a bit of a platform, whether it's Caleb making a film, or Gary as the caretaker, loads of people. It's like look, you can play table tennis, pass on your skills and it's just a really good vehicle for doing that.
BTTC reaches out across the city as well, doing fantastic work in the local community, could you tell us a bit more about the places you visit?
We do, we do about 30 sessions here a week and about 30 sessions of outreach a week. Some of the most interesting places we do outreach at now are Mill View psychiatric hospital, First Base, which is a Brighton housing trust day centre for homeless people,and High Down prison and Downview prison. There's huge potential to do more ping pong in prisons. I think that's the next big thing for the club, prison stuff.
I was going to end on 'what's the next big thing for the club'! So lets finish on, what's the plan going forward for BTTC?
The answer to that is, we don't want to go outside of Brighton and Hove, the prison stuff is a bit different, but for everything else we will stay in Brighton and Hove. There's loads more places that aren't doing table tennis. Loads more schools, nurseries and care homes. So there's a lot more that we can do locally.
We would just like to make Brighton the capital of table tennis in the world, that's what we want!